Got my 2013 Brutie 1090 RR back from my trusted tuner.
Inspired of Balz' thread of the F4 cylinder head on a 144 hp 1090 R I found some similarities to my first dyno session:
Here is Balz' thread on the F4 cylinder head:
http://www.mvagusta.net/forum/showthread.php?t=70610
So I checked the order # for rev sensitive parts and found out that valves, springs etc. were put in from former F4s that can rev 13000 rpm.
I then gave back my Brutie into the hands of my trusted tuner and nearly got the same results like Balz:
My tuner also found some more hp by adjusting the ignition - here is before and after: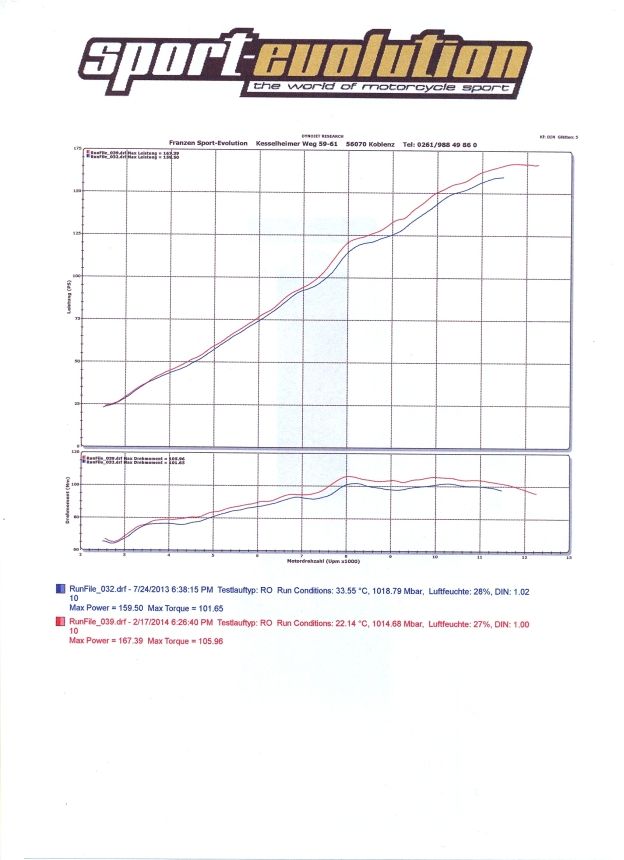 The only changes I did:
- MV Corse headers
- snorkels of the airbox removed (plus the inner weird tubes)
- BMC air filter installed
Standard cans!!! So low noise.
This is what the 1090 RR of the years 2012+ really can do if they would have let her go ex works as intened to. MV Agusta put the rev limiter to 11600 rpm although the max power should come up at 11900 rpm and the rev limiter at 12200. This is the official data!!! But I never saw on any dyno run that a 1090 RR did rev more than 11600 rpm.
I would never go for PC - as the ignition advance makes a lot of difference. So Rexxer or Microtec from Chris. I went for Rexxer as I have an tuning point with the platinum software just near to me.
Special thanks to Hans for his help (and Balz of course).
Jochen