The thread
"Exhaust options. F3-B3-Rivale-Turismo Veloce"
got me thinking about the difference in exhaust header designs. Years of racing have taught me that things like header length, collector style and volume all play their part. But it's still somewhat of a black art to me. A quick search revealed some different approaches to the problem of gaining horse power and torque for triples.
This is the MV Agusta's 675 race unit.
Notice the outside cylinders Siamese together whereby the middle runs separate. It does however increase in size but there are no balance tubes as such.
This is Termignoni's effort.
Very traditional design with three pipes of near equal length, (middle pipe appears to be slightly longer). Balance tubes are placed adjacent to each other at about 1/3 distance between the outlet port and the collector.
At first glimpse HP Corse's header looks to be a copy of the Termi.

However, looking closer they are quite different. Bends are greater, balance tubes are closer to the outlet port and there is a lack of formal collector.
For comparison here is the stock Triumph 675 beside it's Arrow replacement.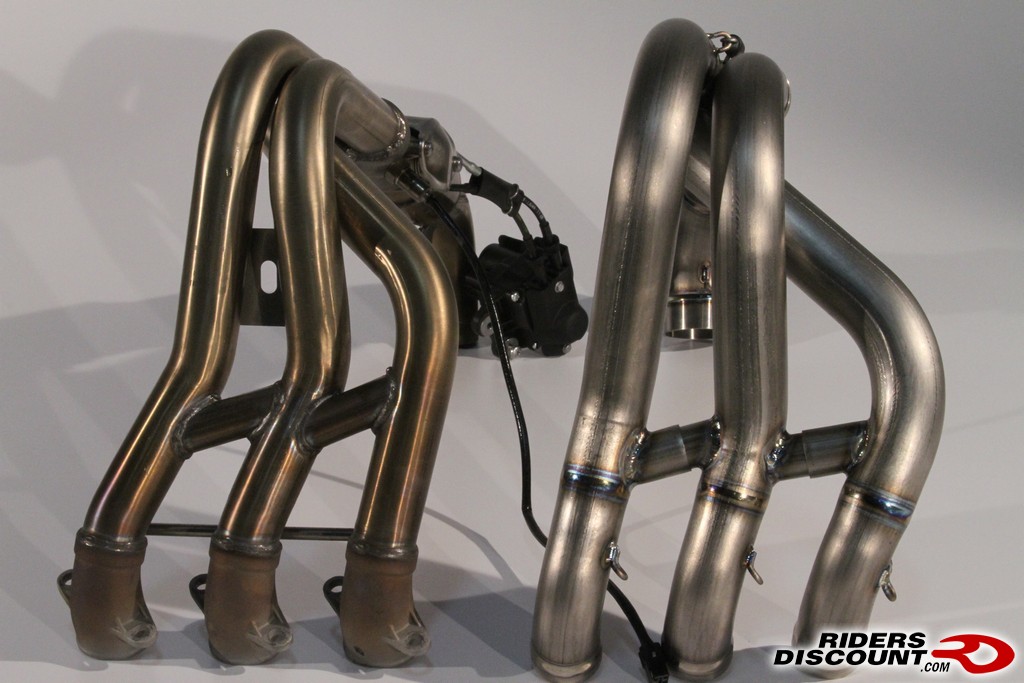 First thing you notice is how much the Arrow unit matches it's stock counterpart. The second being the balance tubes on such an angle.
As I do not build performance exhaust systems for a living anything I say would be pure speculation. However, we do have some experienced types on here. I'm sure we'd all be keen to hear from those who have used different makes as to what their feelings were. What are the possible reason to chose one design over another? Anyone?