Discussion Starter
•
#1
•
Damn, this looks perfect :mouthwate
Check out the new Brembo RS Break Master Cylinder :smoking:
The BIG improvment is that this is kind of a 2 in 1 because you can change the distance from 18mm to 20mm with a simple click.
No more dilema on choosing the 19x20 or the 19x18 Break Pump
There will be a similar Clutch Master Cylinder changable from 16mm to 18mm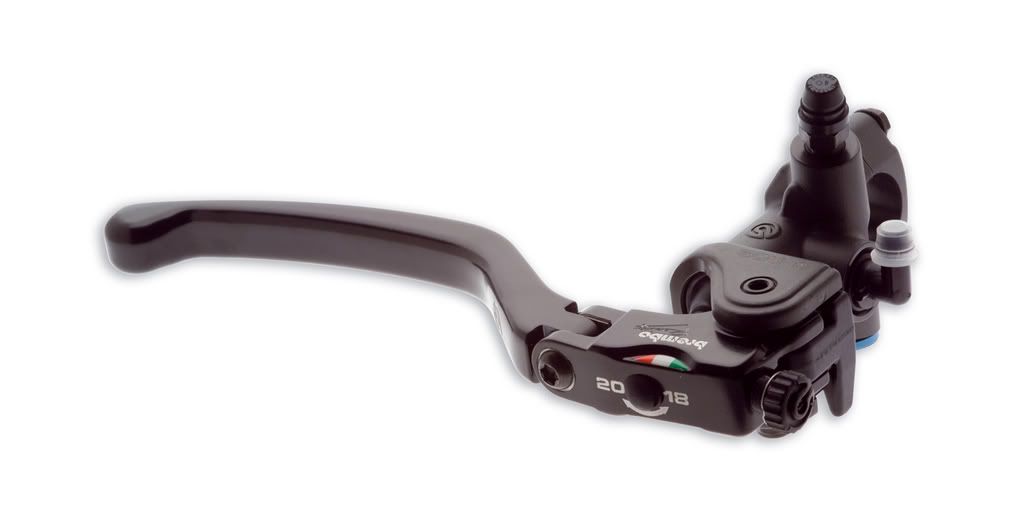 Here are the characteristics but it's in Italiano
SCHEDA TECNICA
Interasse Regolabile: 18 o 20 mm. sistema RCS
Il colore rosso dell'eccentrico identifica la posizione 18mm dell'interasse, mentre il colore nero identifica la posizione 20mm.
Funzione del sistema RCS
Con il sistema RCS - Ratio Click System – si passa da una configurazione all'altra, modificando il rapporto leva per adeguarlo alle diverse caratteristiche guida e di utilizzo.
Pompante interno MOTO GP
Il pistoncino, le guarnizioni, il puntalino sono i medesimi delle pompe che la totalità dei piloti della MotoGP e della SBK utilizzano:ridottissime tolleranze di lavorazione e ottima scorrevolezza.
Corpo Pompa
Il corpo pompa è in lega d'alluminio, ottenuto tramite forgiatura e lavorato successivamente CNC con fresature d'alleggerimento.
Per la finitura superficiale è stata scelta l'ossidazione dura.
Leva Freno
La leva freno è costituita da due componenti principali: il guida Leva Racing e la leva stessa, snodata, realizzata attraverso forgiatura.
Interruttore Luce Stop
E' stato predisposto un alloggiamento specifico per l'interruttore meccanico di accensione luce stop, per l'utilizzo stradale della pompa freno.
Mollette contrasto leva
Mollette di carico elevato per garantire il contatto costante tra premipuntalino e puntalino, a tutto vantaggio dell'aumento della vita dei vari componenti.
Pompa Frizione
Si chiama 16RCS la pompa frizione che sfrutta tutte le tecnologie applicate alla pompa freno, con la variazione d'interasse stabilita in 16 e 18 mm.