Discussion Starter
•
#1
•
We arrived at our dealer's open house and the first thing we noticed was a white F3 running around the parking lot. The wife and I both go whadafaaa ??? It's so damn quiet! I put the windows down and all we heard was a whoosh as it past in front of our car. Even when the rider blipped the throttle it didn't sound that special. The next words out of the wife's mouth were, "my bike's louder than your bike, naner naner…." I replied with, "the baffles are going back into your Termi's!"
Inside we see the red/silver and I'm instantly in lust with it. Sorry to those of you who like the white but the truth is, it doesn't hold a candle to the red/silver.
I talked at length with my salesman who ran back and forth between the parts and tech guys trying to get answers to my questions. As I expected though, most went unanswered. When I inquired about how he sells what he does with such limited info he replied, "Most buyers know more then I do about the bikes so it's pre sold. Those who don't are not interested in the technical stuff to care if I do." I did learn that the service tech is scheduled for his F3 training mid July. I also discovered that the black bikes will not be here until the next shipment due in October. So sorry for those waiting for a black one.
Had a strange encounter in the showroom with the co owner of another bike shop (

Kawasaki, Yamaha

). It seems his partner in that business is the principal at this dealership, (Indian, Triumph, MV). He stepped right between my salesman and myself while we were in the middle of a conversion. He asked if I'd be interested in the 999R Fila that was in the corner. Seems his shop was taking it to try and sell. I politely said I was buying an F3 to which he told me buy the F3 but I should go to his store for everything else. The wife (as well as myself) was not amused. She later commented that it would be a very cold day in the underworld before she'd allow me to set foot in his store.
So the bike… what can I say that hasn't already been said? It's fracking beautiful! Sleek, sensual, inviting, sexy, compact, slender, a quirky mix, old school basics meets new age technology.
Surprises: How narrow it is where the seat and tank meet. How quiet it is. The sloppiness of the cable clutch lever, (Flops up and down worse then a running Basset Hound's ears.) If someone comes up with a hydraulic clutch conversion I'm in for one. No oil sight window, uses old school dipstick.
Funny bits: That little space, (and I do mean tiny) under the passenger seat. The tool kit, please tell me that there is more to it than those two itty-bitty allen wrenches clipped under the seat.
Speaking of things under stuff, how do you go about getting the tail to pop up? As in this photo.
I told the salesman about the battery charger as I wanted to see the connector but he only knew how to pop the passenger seat. There was a "D" ring visible but it didn't want to turn and he was reluctant to force it. He thought it only popped off the main seat cushion.
Changes needed: Seat height, rear plate holder, exhaust and belly pan finish.
The seat height I've mentioned in several other threads. Here's the proof of my dilemma.
If you look closely, (disregard the overly loose shoe lace) you'll see I'm literally on tippy toes. I stretched my legs as far as I could and that's as close to having both feet down as I got. Shaving the extreme leading edge of the seat isn't going to gain me enough to make it worthwhile.
I could not get a look at the bottom shock mount but here is a photo of the top mount.
This is the same sort of clevis that we replaced on the wife's M796. Her bike had a huge spacer welded in the top of the "U" that is not found on the smaller M696. So, a simple switch of factory parts and viola, we lowered her bike almost ¾ of an inch. The MV dealership didn't have a parts fiche so I was not able to see a diagram as to whether a similar situation exists on the F3. That is to say, is there a similar spacer on the F3's clevis that could be removed?
Both of these bikes have been ridden and spiritedly I might add. Here's the proof from the red bike.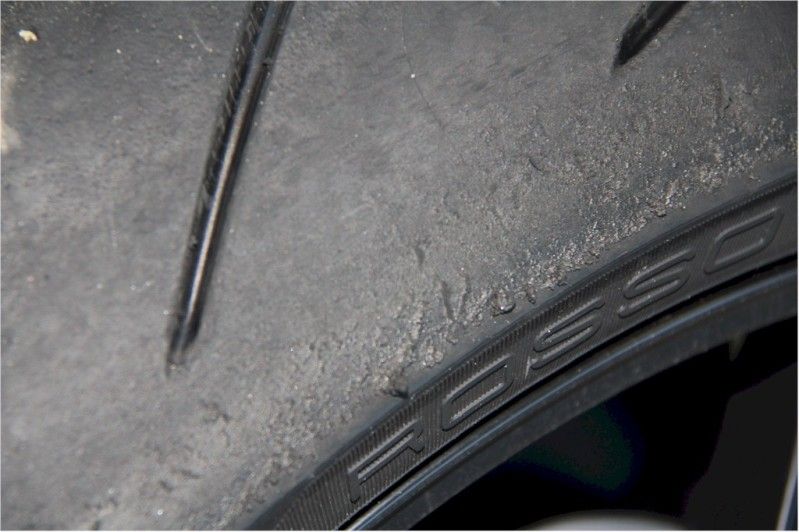 Also, the red bike was filthy. It had been recently ridden in the rain and it was easy to see where the bike will be the hardest to clean. The belly pan had been off and it was covered with greasy fingerprints. The brushed finish is definitely not the best for such an application. I'd be tempted to have it repainted to match the side panels. However, carbon fiber was mentioned as the best solution. Oh, this bike is going to be a money pit I just know it.
We learned a surprising thing about these two bikes. I was told that these bikes were pre-production units here for display only and that they would be going back to Italy at some point. However the wife pointed out that the red bike seemed to have the appropriate stickers and a proper 17 digit VIN. I was able to read the part about "This motorcycle meets all applicable Canadian standards in force on the date of manufacture as shown above," on the one sticker on the upper left frame rail closest to the steering head. The tank obscured the date of manufacture.
When I ask my salesman about this he said he didn't know about them being Canadian models. He did say that several peopled had tested the bikes and all complained about the poor running at low RPM's. However he changed his story and let it slip that they may not want them back in Italy and so these may end up being CRUSHED!
I've been in and around the trade long enough to know that vehicles are brought into the country all the time on limited use papers. Typically this is for cold weather testing or for custom installation of specialized equipment on autos and trucks. (I worked for a company that was to install mobile radar units on Merc military truck frames.) But every so often I hear about motorcycles that get crushed. Often it's a tax thing were by it's more financially beneficial to squash a bike and claim a loss then to pay to ship it back to the manufacture who can't sell it anyways.
This just seems wrong to me. I'm going to write to MotoVan the Canadian distributor to see if I can get "the rest of the story."