Hi Guys,
Zandit here from Tasmania....For those who have no idea where that is, it's basically the A$$ end of the world, way down under Downunder!
I'm currently riding a 2010 Kawasaki Ninja 650R ABS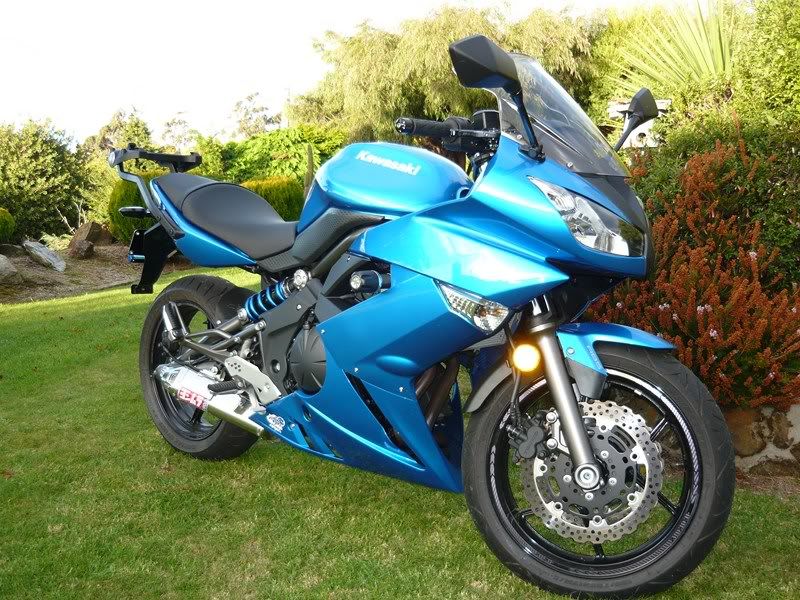 This shot is from a couple of years ago, as I now have full Givi luggage racks fitted, and in full tour mode, I have about 117ltrs of luggage space for me and my wife.
So, what the hell am I doing here? Well it all started after riding a Triumph Street Triple 675 a couple of weeks ago. Now, apart from the ugly headlights, this is one hell of a bike, and it is the first ever naked bike I have ridden. I was genuinely surprised with how little buffet I had even at highway speeds compared to my Ninja. I always thought having the full fairings and double-bubble windscreen would be perfect for 2up riding, but the Triumph left me spellbound.
I am still a couple of years away from buying a new bike, but I am now seriously considering a naked bike as a replacement. I started looking at other brands, and in a dream state, I checked out the MV's.
I have always loved the F4's from when I first seen a magazine feature on the ultra rare F4 fitted with titanium and magnesium everywhere! There was nothing sexier in my opinion, and it still holds true today!
Next I checked out pricing, and was surprised to see how affordable they are!
The first question I have is, is the Brutale a suitable tourer, and is it a comfortable 2up bike?
Secondly, I have seen only a couple of luggage options for the Brutale. Are there any Hard Luggage options out there?
Has anyone ridden both the Street Triple and the B3 back to back? If so, what are your thoughts?
Lastly, I'm a shorta$$, so are there any other shorter members that have any issues with this bike?
Unfortunately, being in Tassie means my nearest distributor is in Melbourne, and I won't have a chance to sit on one until August,
Any thoughts and opinions would be appreciated!