New Mirrors mod (pics of custom mod)
After nearly having 2 accidents because of the Brute's shitty mirrors poor visibility, i decide to change them mirrors but didn't want to buy Rizomas. I don't particularly find them nice...
So, i bought myself a pair of mirrors i found in a Bike shop here in France and some bar holders.
So i tried to move the various starter, break and clutch pieces on the Brute's handle bar to make some room for my mirrors. But all the pieces are pegged into the handle bar and you can't "shift-slide" just like that.
Anyway...i won't bore you with the details but i'm pretty happy with the results. FINALLY I CAN SEE WHAT'S BEHIND ME WHEN I RIDE!!!!
It's really after you install proper mirrors that you realize how blind you were with the stock one. When i think about them, they are really dangerous and you shouldn't hesitate for 1 second before you decide to do something about them. Just check out of much "less" of my elbow and "more" of what's behing me i can see after the mod.
Vibrations were reduced by 60% when riding under 90km\h and 40% when riding above 100km\h.
*******Before...********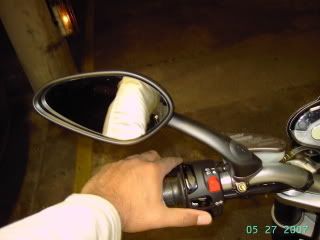 *******After...********