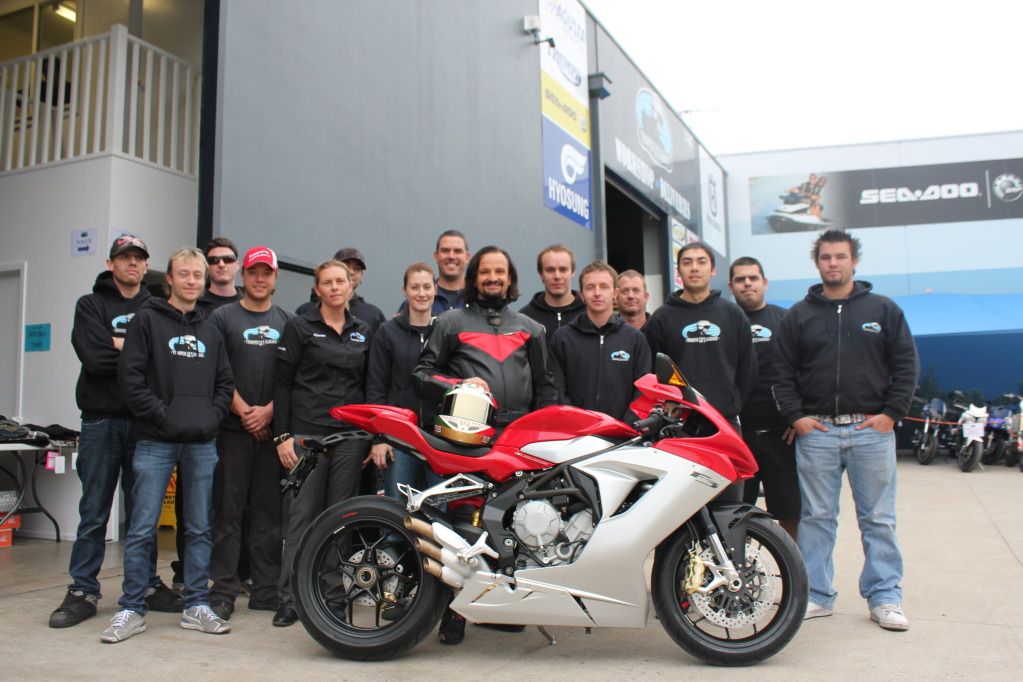 I am not sure if it is the first Australian normal production F3 registered but certainly amongst the first.
As you can see from the pic, the roll out of the first production F3 from Trooper Lu's Garage was quite an event with the whole stuff coming out for a commemorative snap. I hope 30 years from now I'll be able to tell old man stories about "when I got my F3.................."
BIG THANKS TO :
1.
James Deutsher at MV Imports Pty Ltd
for shipping it out of Melbourne post haste so that I could have it before I leave for Italy next Tuesday (more about later). I had nothing more than a gentleman's agreement with James (and Justin) from over a year ago, no deposit just a handshake, it's how I do things and incredible to meet other men of honour in this day & age. James is the type of stand up guy that I believe will take this wonderful marque to where I and all other MV aficionados want to see it in Australia. A great big - Thank you James & all the staff at MV imports!
2. Secondly, and certainly no less important -
Justin Chisholm at Trooper Lu's Garage
- they received the bike late Tuesday in a crate - had the pre-delivery done & bike really for my collection 10.00am Thursday morning. Adam who did the sales paperwork & took my money - top class service - Michael & co who talked me through all the functions exemplary customer service. Justin & his lovely wife Simone for making me feel like motorcycling royalty. This is exactly how text book perfection in customer service and relations should look. It is not hard to see why you guys sold 14 MVs last month alone :yo: Thank from the bottom of my heart - fantastic to know MV sales & service is such excellent hands!
I rode the bike home 80klms and had to put it away as it was about to rain - I certainly didn't want to spoil my perfect record of none of my bikes every having seen rain :jsm:
I'll do a full report when I return from Italy - which a nice segue way into my trip to Verona to collect my dream bike - an MV Agusta 750 America
Most likely won't be posting until after I return 16 June.
Have fun people - I certainly am.