Ok, ladies & gentlemen, boys & girls - we've seen the all the pros have a go at this now let's take a look from the man in the street - yep that man in the street is me!
BACKGROUND
I first heard about the F3 in 2009 from the viewpoint that it was going to be a reality, rumours had been around much earlier. Having a had virtual life long dream of owning 1,2,3 & 4 cylinder MV Agustas this was the chance of a realistically achieving that aim. The only other way of doing it was to obtain an ex racing 3 cylinder or one of the race reproductions which at $200K upwards was never going to be a realistic option.
Fast forward to November 2010 the week following Milan EICMA - the highly acclaimed & star of the show (F3) was back at The factory in Schiranna Italy. I was fortunate to have been granted a tour of the factory by Giovanni Castiglioni himself and allowed to sit and take photos on that very F3!
I asked Mr Castiglioni if it would be possible to receive the first F3 that would come to Australia - with typical Italian bravado & a smile he replied in excellent English "Anything is possible".
DELIVERY
From that date, in the twinkle of an eye 79 weeks (rounded down) or 556 days or 48,038,400 seconds or 800,640 minutes or 13,344 hours whichever way you want to look at it had elapsed and my baby was being delivered to me.
It was indeed the first 'normal production' F3 delivered in Australia - confirmed in writing by the national importer and certified by the dealer. The happy day: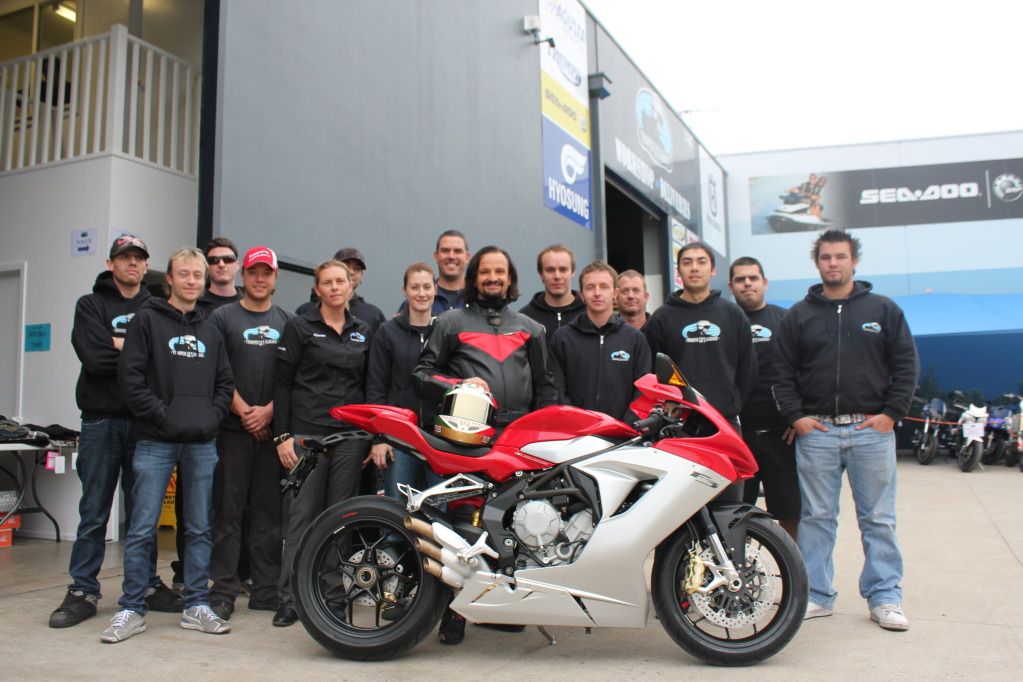 Pre-delivery was perfect and my F3 had received an updated map to address the low down fuelling issues. The whole experience was one that you would want to replicated with every purchase you make in life, simply outstanding. Trooper Lu's Garage went over & beyond as did MV Agusta Imports Pty Ltd under the wonderful stewardship of James Deutsher.
Looks & Styling
The F3 is breathtakingly beautiful & no matter what environment you place it in, it looks simply superb. Even on a dreary rainy day you can still just sit in the garage with a beer and enjoy its exquisiteness.
There isn't a bad angle from which you can view the bike.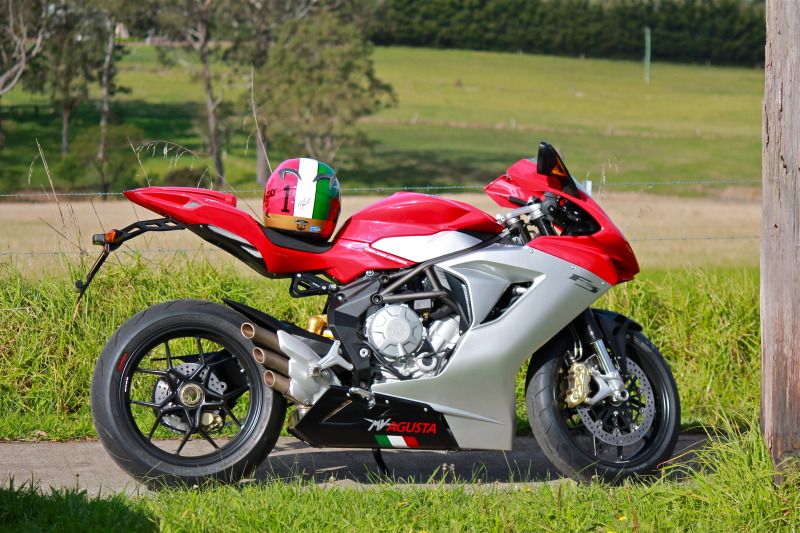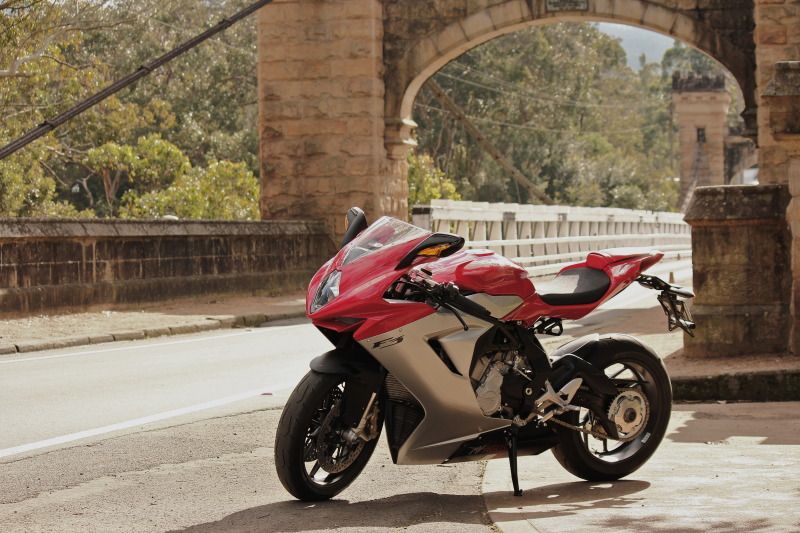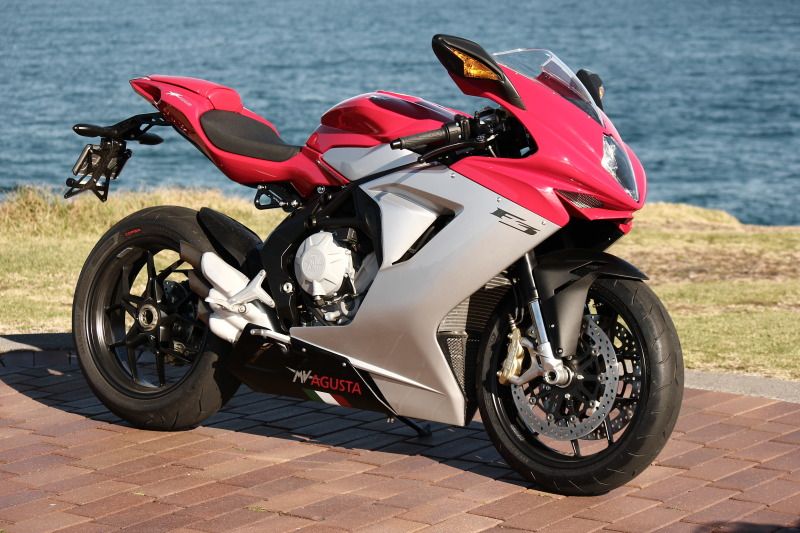 Mirrors
These are prefect, should you forget what bike you are riding you can look in the mirrors and read the logo on your jacket!
Right:
Left: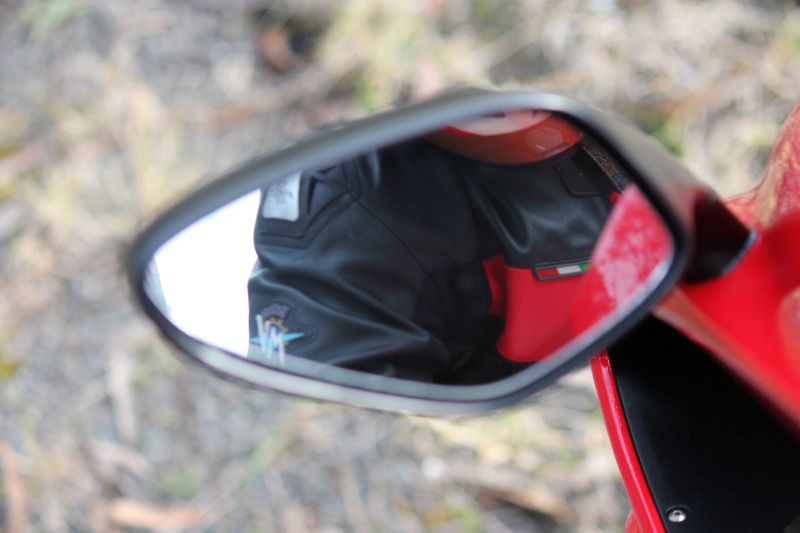 Also, as we all know, the mirror design is governed by the Italian engineers' mantra of "What is behind you is not important!"
Engine & Mapping
This is a sweet engine with the potential to be anything.
When I first received my bike it had the first update map to address the criticisms addressed at its fuelling below 4K rpm. I found my F3 eminently rideable. It still wasn't anything remotely close to happy in sport mode being dragged around at 30kph in second or third gear. In normal mode it was a tad more compliant but it was still making the rider understand that it would rather be doing something else like spinning at 7K upwards.
In early July my F3 received a second updated map of the '046' maps - this was aimed at the stalling issue (which mine had never done apart from once when the idiot rider tried to take off in 2nd gear from idle!) and also designed further refine the low down responsiveness and improve mid range. Whilst being very happy with how it ran (for my purposes) I did find it a further improvement and the F3 was better again.
Last Saturday it had a third updated map installed (I think it's the ISO-046) I subsequently did over 200kms testing it out. All I can say is, I don't know how much untapped potential this engine has. It is now a pussycat & beast rolled into one. The responsiveness difference (in sport mode) at 5k rpm upwards of 10k rpm is amazing & the sound with stock pipes almost too good to be true - the distinct growl that comes in at 7k rpm almost makes the tacho superfluous, there's no need to look you KNOW what you just hit and it gradually transforms to an F1 type howl at 10k rpm again no need for the tacho you know what zone you are in. The temptation of course, is to treat whatever road you are on as your own personal racetrack, a temptation that takes quite some fighting I can assure you - that sound is intoxicating & you simply get lost in it. Revving hard from 5000rpm through to redline emits a range of emotion from a sweet symphony to sheer violence - you can't help but love it.
Oh the flip side, the pussycat side allows for those (the British press) whom have a need to ride a mid capacity sports bike sports bike at 30 kph in 2 & 3rd gear to do so. I tested this by following some buses & old ladies around town:
Puttering around the F3 was completely compliant which made me a little sad, it's akin to neutering a young lion cub.
Map settings are simple to change on the fly - but honestly I mainly toggled through normal & sport settings and found them wonderful - my dalliance with rain mode seemed all wrong on the road as it seems to move everything lower down the rev range - custom map confused me as I couldn't see a discernible difference to normal setting.
It would not surprise me (now) if this little baby still has something that's untapped.
Brakes
I did not take this bike to the track - which is without doubt its spiritual home but there was absolutely nothing I could do on the road (even at licence and jail risking speeds) to even come close to testing their limits.
The brakes are superbly matched to the bike and I am unlikely to outgrow their abilities in this lifetime. They are progressive with excellent feel from both the front & rear.
Handling & Chassis
Firstly, the fit is perfect for me - it's like having a tailor made suit. At a little under 5'8'' and 72 kgs it is literally a glove but having said that it still feels roomy enough to accommodate someone 4 or 5 inches taller.
I really don't know how to describe the handling of the F3 - we use words like slow, fast, neutral to describe steering, we use methods like counter-steering to get bikes around bends.
I think a new term is required is required for the F3 and that is Telepathic steering. It is far & away the easiest bike I have come across to change direction, to tip into a corner whenever you like (almost) - it's like it knows what you want to do before you even do. Certainly if I was going to compile a CV of my riding abilities this would be the bike I would choose as it would portray me a far better rider than I actually am. In this regard caution is required to ensure one doesn't start to believe the F3's devious & seductive overtures of one's inflated abilities. The excellent Pirrellis add to this sense of unsupported greatness.
I had the traction control set on level 4 (out of 8) and found it fairly unintrusive, I am not sure what level 8 is for unless you are trying to ride with slicks on snow - for the road every blip of the throttle was neutered at that level & rendered the bike almost unrideable.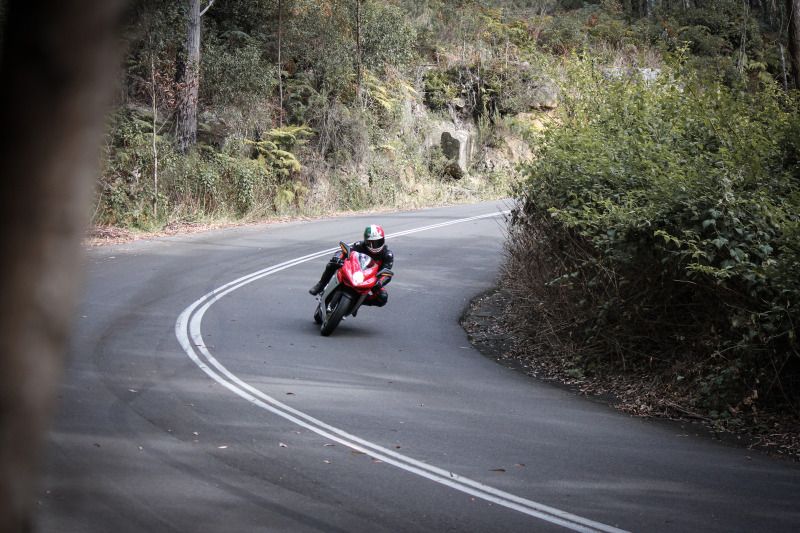 Verdict
For all the fears of buying a first production model, the experience thus far has been nothing but positive, the bike has performed superbly , it was good the day I got it, I loved it, it got better with the second re-map and even better again now - it's been like having had 3 new bikes in the last few months and just getting happier and happier.
I have had no problems with my bike, it now has travelled 1400klms it had it's 1st service 400 klms ago and the engine seems to be freeing up very nicely. It will get better and better, I think with the cat free headers it will sound even better still (I can't wait for that) and will breathe better, I'll let you know that works out once we receive all the bits.
Meanwhile, if you considering an F3 and have been put off by some the things you have read - my advice is; clear your mind and just go test ride one. Then sell your wife, kids, neighbour's car, neighbour's dog - whatever it takes & stick one in your garage.
Pros:
Looks
Engine
Brakes
Chassis
Easy to use electronics
Soul
Cons:
Poor dealer preparation/support in some areas - it seems pre -delivery and back up is tantamount to happy ownership. I am sure mine wasn't built specially to be a great bike but am thankful for the support at Trooper Lu's Garage and dedicated and enthusiastic technical & sales staff. That goes a long way.