Discussion Starter
·
#1
·
Well.... since I have down time waiting for Muzzy to get their heads out of their a** and get their tooling finished for their fan blades to start rolling out again. I figured I'd buckle down and start a build thread for my Senna.
Mods - if this is in the wrong place, let me know. For my past cars and other bikes there has been a section dedicated to people's builds/projects, so I didn't quite know where to put this. I like to have a record of all the work on my pride and joys, and this is my new #1 on that list, and I'm pretty sure will be for quite a while.
This is MV #2 for me, and 7 years since my last 02' 750, so there was quite a bit of researching and looking before I finally found what I really wanted in another MV... but I finally found a Senna, which was on the top of my wish list (would have also been happy with a 312R, or 1078, or an Ago 1000). Here she is the day I picked her up with my newly born son on it, and once I got her home.
At first I thought I wasn't going to do any mods to this already fantastic machine... but, like everything else with an engine that I have ever owned, that started to go out the window little by little.
The first thing to go was the original Yuasa battery, that even after having it hooked up to my battery tender Jr. decided to give out completely before I even got the chance to take it for a ride once I got it home and it sat for a week. I know a lot of people give these MotoBatt AGM batteries a bad wrap, but I have had them in my last 4-5 bikes, and they have been great. I also upgraded my charger to a Noco Genius after reading some great things about them on here.
Next was getting the cooling system flushed out, the water pump upgraded, and some muzzy fan blades put on to get this thing to run as cool as it could since I live in SWFL, and it's HOT down here in the summer. After a lot of research, I decided to go with the Design Corse water pump. It was such a nice piece, that it just seemed well worth the $$. And let me say, after having it in my hand and installing it, what a nice piece indeed.
I also needed to clean up the exhaust, and thought about ceramic coating the header for better heat management in the fan/radiator area. So I sent the header off to ProCoat in Tampa to have it done. I also picked up an arrow mid-pipe and polished up the rear tail pipes as well... which was A LOT of work... but it was nice to learn something new and do it myself. Some pics of the before and after of the pipes, and the finished exhaust setup.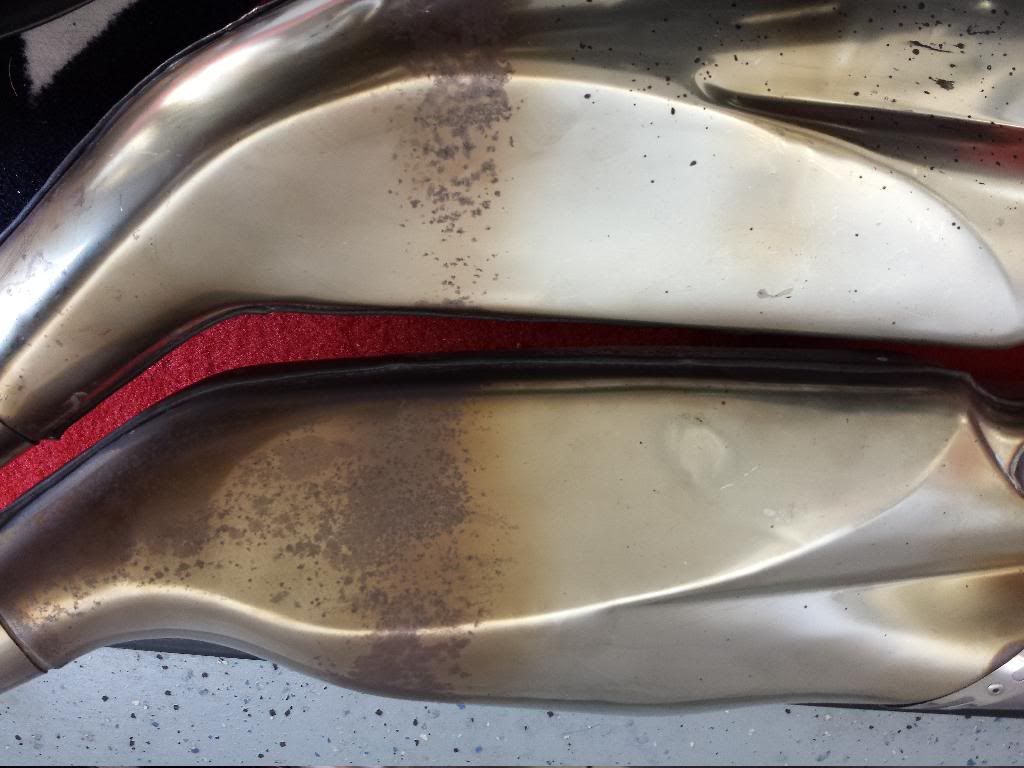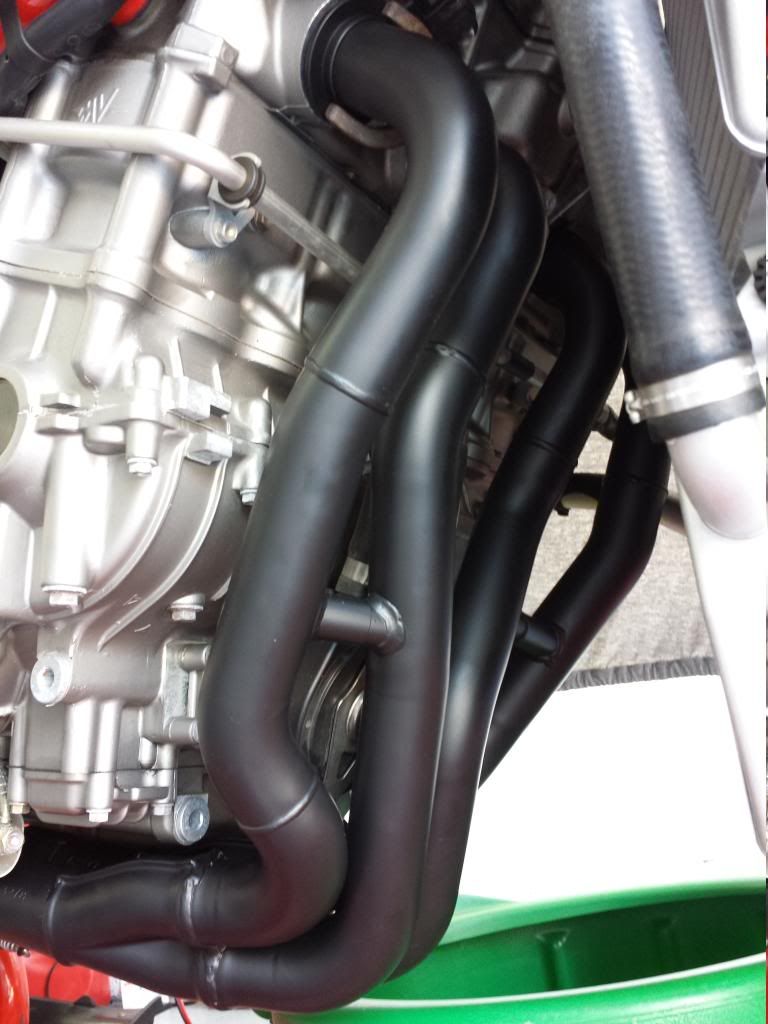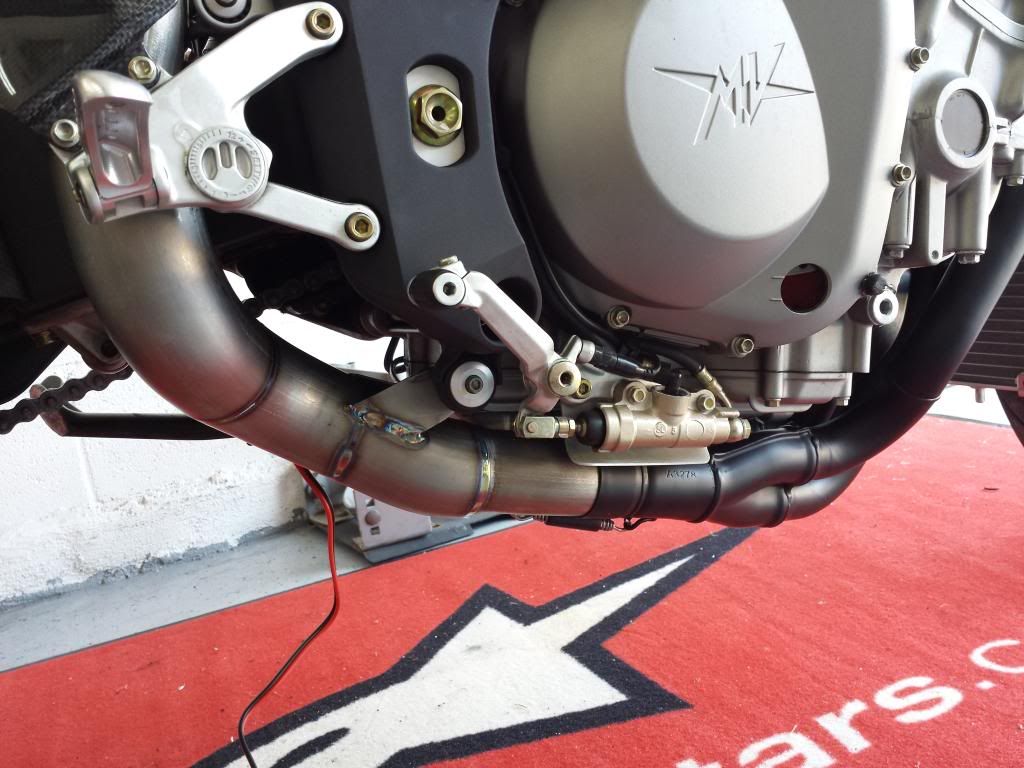 I picked up some small stuff as well. Some carbon fiber heel guards, a Melotti Tidy Tail, Zero Gravity tinted wind screen, Clear Alternatives integrated tail light, 55w HID kit for the low beam headlight from DDM Tuning, and some 3w Cree LED projector lensed parking lights. Along with a BMC Race air filter as well, that should be here any day. I don't have pics of it all yet, since it's not all back together (still waiting on the Muzzy fan blades), but here is some of it.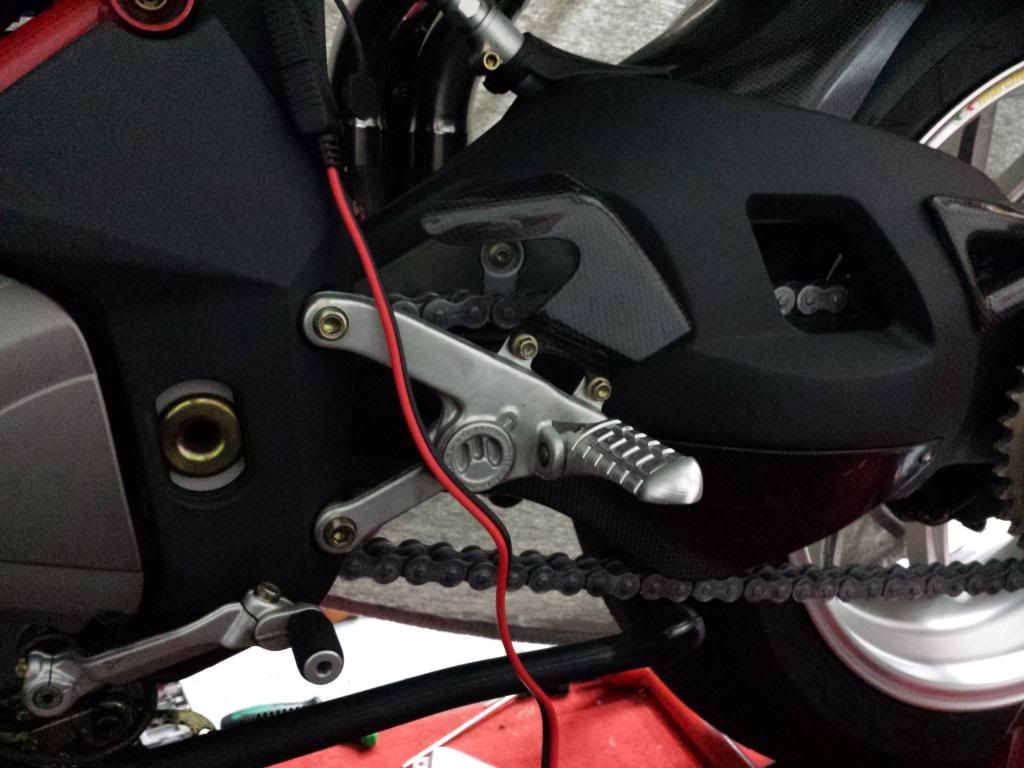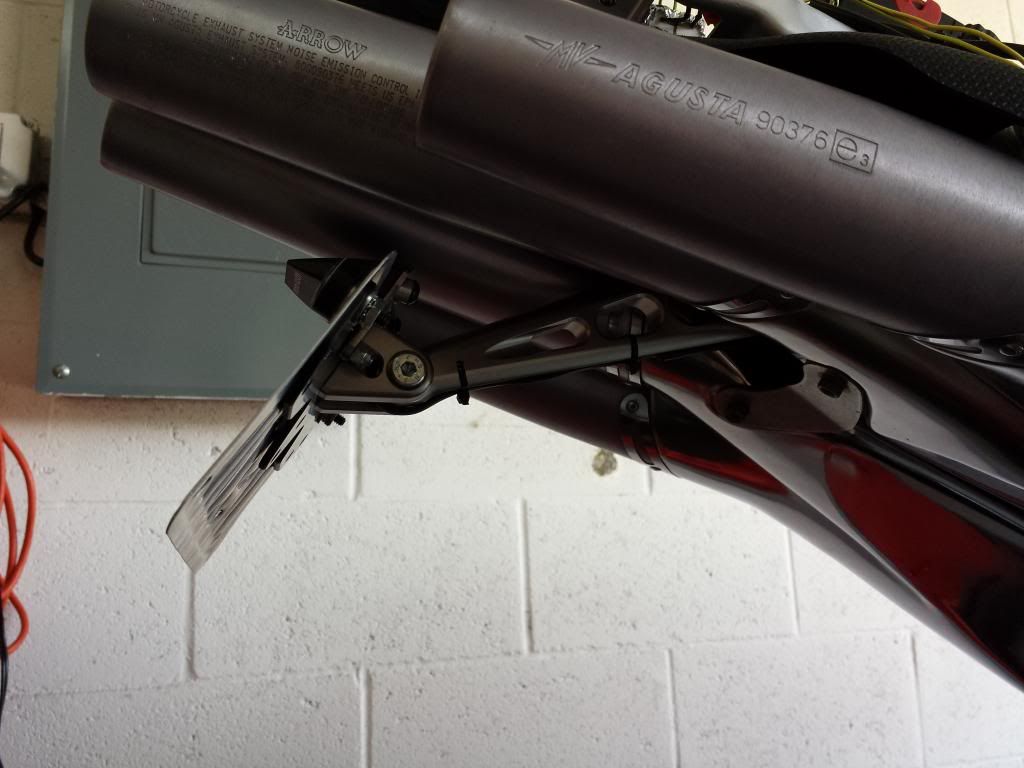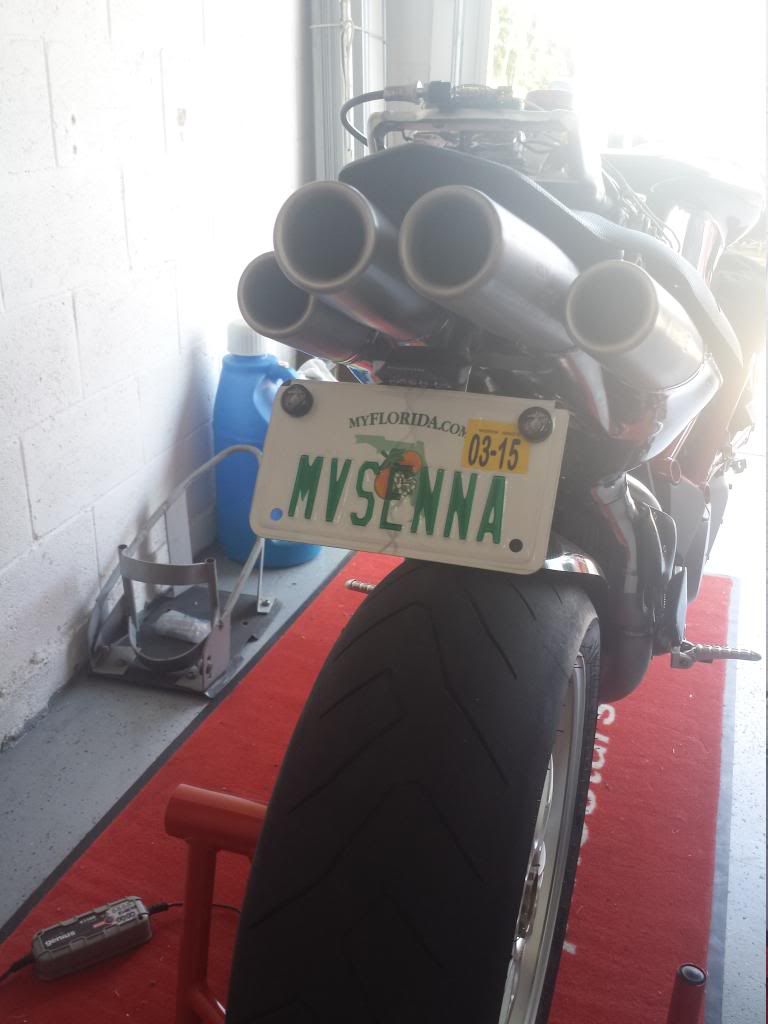 Thanks to my wife, I also have a cool key chain to go with it :yo: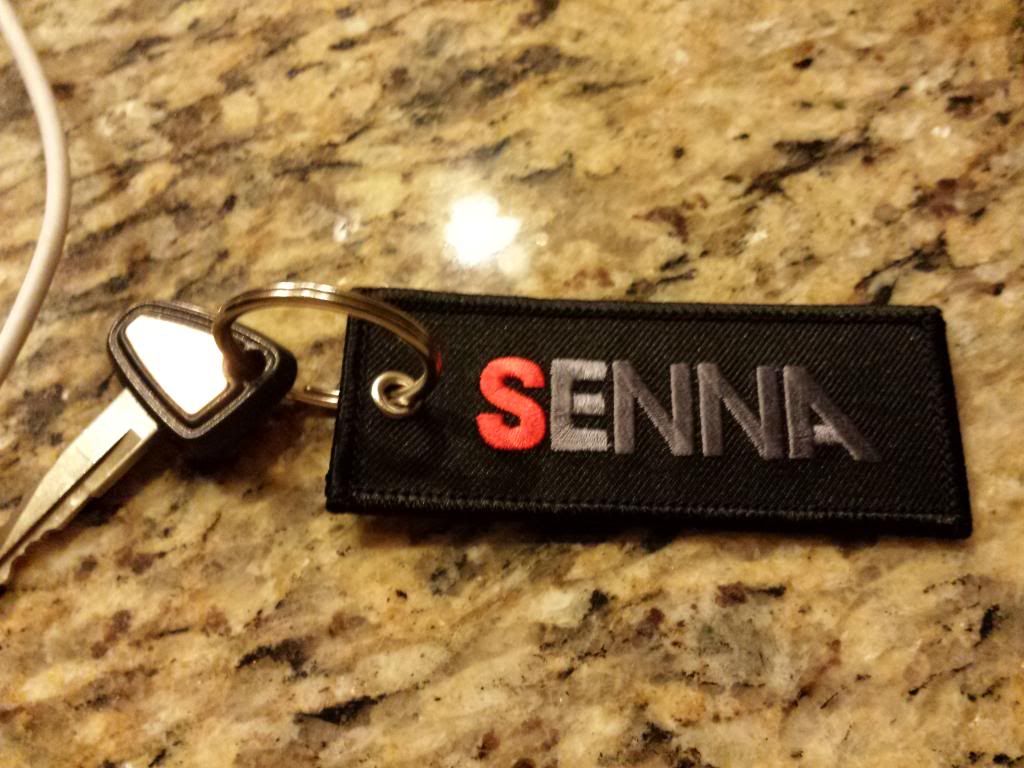 I am hoping to get the BMC filter here this week, and I can get the top half of the bike and tail put back on, and also figure out where I am going to put the HID ballast and wiring, since there is not a lot of room.
Next on my list for the future is:
1) Ecu and tune. I would like to get a dyno tune and re-flash to be able to lower the turn on temp for the fans and am working on that... but doesn't look there is anyone offering that near FL from what I have seen so far.
2) Upgraded rear hub. I have been reading quite a lot on this forum since the bike came home in March... and lately it has been all the horror stories of rear hub failure. The bike only has 2700 miles on it, but I want to keep it tip top, and I think it would be a wise investment for either a hub from Mitch or DC... leaning toward's Mitch's hub right now.
3) GP shift pattern. I am still debating between the reverse drum route or some upgraded rear sets. I have seen some reviews on the Gilles saying you had to mod the fairing for the shift linkage... which I am NOT doing. So that's down to Rizoma or Sato. Guess I'm leaning more towards the drum route through MV parts as I like the oem rear sets pretty well.
Muzzy has no ETA on their fan blades, and I don't want to put it all back together until I get them on since I already have the radiator dropped and the coolant drained, which I'll be replacing with engine ice. So it looks like this is it for now. Will keep updating as time goes on, and hopefully this will be some help for others wanting to do the same mods in the future... not that there isn't plenty of good resources here already.
If anyone has any suggestions or input on anything, I would love to hear it. Look forward to getting this thing back together and out for a proper ride, since I have technically owned it for over 2 months with the only ride being a test ride around the neighborhood of the seller when I first bought it. Thanks to all of you who are active, and all of your knowledge and insight and contributions into this great forum. Also some of the site vendors, you guys have some great customer support, which makes getting parts for MV's far less painful. :f4: