Discussion Starter
·
#1
·
Greetings.
On my 2014 MV Agusta 1000 R, after each trip a small amount of coolant is poured out (about 200-300 ml). This happens after every ride as soon as I stop and turn off the bike. After 2 minutes, every time I find a puddle of coolant under it. During the trip, the bike does not overheat. Coolant is poured out of the expansion tank through the overflow pipe.
When I use the bike in the city where there is enough speed for good radiator airflow, there is no problem. The coolant sloshing problem only occurs when I drive up to my house as I drive at low speed for about 3 minutes.
If, after the coolant has drained out, and the motorcycle is allowed to cool, then the expansion tank will be empty (all the coolant is sucked into the radiator).
An enlarged pump from Jet Prime is installed, the coolant is filled in according to the service manual (with the front wheel raised), the gasket is not broken, there are no air bubbles in the expansion tank during ride or on iddle.
This photo was taken right after the trip. I stopped the engine and removed the side plastic. 2 minutes after I took the photo, I found a puddle under the bike.
This photo was taken 40 minutes after I turned off the engine and the bike cooled down a bit. About 60 minutes later, the tank was empty.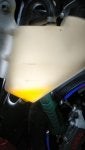 • The bike is not overheat during ride, or on iddle.
• I've tried topping up the coolant to the lowest level - that doesn't help, the bike still "spits out" about 50-100 ml on parking after ride.
• I tried not to turn off engine after a trip for 5 minutes, this does not give an effect. Moreover, if the engine runs after a trip of more than 4 minutes at idle, then the coolant also begins to pour out of the expansion tank.
• The radiator fans have been tested and are working.
• Changed the cap on the radiator twice - it does not help.
What could be the problem, has anyone experienced this?