So, I was invited on a little day out last Sunday to help drop some bikes off at a local vintage rally ........
A friends uncle has a rather special collection of bikes, and he wanted a hand getting them up to a local Vintage Rally. The bikes in question were a 1939 Series A Vincent Rapide, a 1949 Series B Rapide, a 1950 Series C Rapide, a Series D Rapide (whose age I cannot remember), and a pair of Vincent Comets. The bikes were then also ridden around the show ring. After the show, we went for a spin down to the river (the long way) through the lanes to meet his family for a picnic and then back home.
During the course or this I got to ride the Series B (lovely) the Series C (probably my favourite) and the series D (scary, as it had managed to get oil over it's tyres and the roads were now wet :wtf: )
They were all surprisingly easy to ride and also surprisingly rapid on the road, perhaps worryingly so considering the drum brakes all round!! Remembering the right foot one up three down gearchange wasn't too difficult (perhaps thanks to having had a couple of right-foot change bikes in the past) but kick-starting a 1000cc twin needs a "certain technique" that could be found a touch lacking :blush:
Anyway, some photo's ....
1939 Series A Rapide
1949 Series B Rapide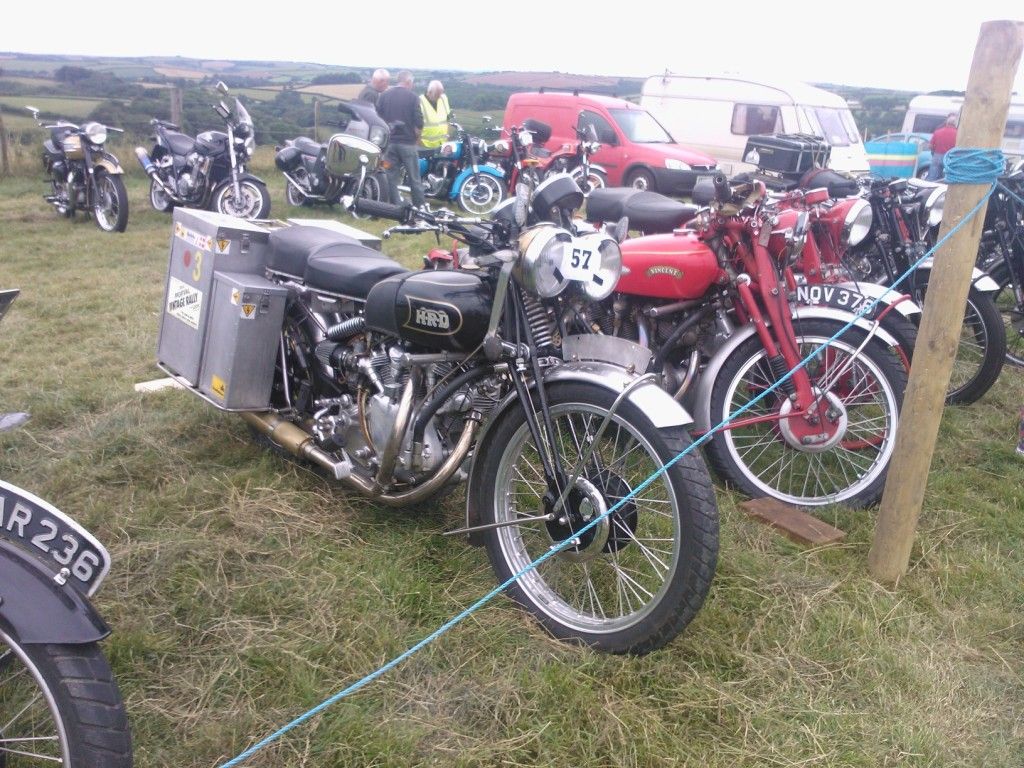 1950 Series C Rapide
All in line with the Series D and Comet's
and down by the river
To put in perspective the generosity of the owner letting us ride the wee beasties, a Series A is worth more than my house, and he seemed to think wwe were doing him a favour by riding them to the show and giving them a run!
On top of these, he has another seven twins in pieces, waiting time to rebuild, including a couple of Black Shadows, a Black Prince and/or a Black Knight ....... he has owned the Series B since 1969 (when he bought it for £85!) and it has something like 400k miles on the speedo. They all get ridden, none of them are garage queens, and all have been tailored to suit the riders over the years.